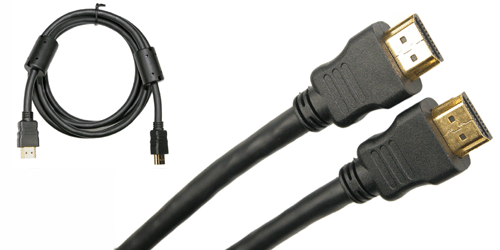 HDMI, or High Definition Multimedia Interface technology was developed by the HDMI Working Group in 2002, and is the newest digital media interface based on the DVI-HDCP model. While DVI handles only uncompressed, real-time digital video and HDTV video, HDMI can handle both digital video as well as multi-channel audio. The most attractive feature of HDMI is that by utilizing this connection upwards of 10 separate cables, both audio and video, can be reduced into one easy to install smaller cable. While there are two HDMI connector types we stock "Type A" which is used for consumer electronics such as televisions and DVD players, whereas "Type B" is designed as a dual link for PC applications requiring frequencies above 165 MHz.
HDMI has several features that make it more attractive to the consumer electronics industry. Among them are its Consumer Electronics Control, or CEC, support based on the AV.link protocol allowing it to be controlled using a universal remote, and its bi-directional communication between all linked HDMI devices allowing for intelligent rendering of specified formats. Also, HDMI, like DVI, transmits uncompressed high definition video data, and this helps to insure that the HDTV television picture maintains its high quality without losing color depth, or altering brightness or contrast. Also, unlike DVI's 15 foot limit, HDMI cable can be run up to 45 feet when used properly.
As far as display compatibility is concerned, HDMI supports every uncompressed standard, enhanced, and high definition video format including the older PAL format. Furthermore, HDMI cables support high definition television resolutions from 480i, 480p, 720p, 1080i, through 1080p. HDMI also supports uncompressed audio formats and compressed audio formats including Dolby Digital, Dolby Digital EX, DTS, and DTS EX. Following the DVD-Audio standard, HDMI was built to handle 1-8 uncompressed audio streams and has sample rates of 48, 96, or even 192 kHz. Compressed multi-channel audio streams can also be handled at sample rates of 192 kHz.
For those households with existing DVI devices, HDMI is backwards compatible with these and devices using the EVA-861 DTV profile. However the key additional features of HDMI, including digital audio and Consumer Electronics Control (CEC), will not work on these DVI devices.


One cable provides Superior, uncompressed digital video and audio quality
Simple, user-friendly connector that replaces the maze of cabling behind the entertainment center.
Integrated remote control.
A popular interface enabling the transmission of high-definition content.


Jacket - Soft PVC 7.7mm O.D.
Braiding - Tinned Annealed Copper Wire - 24x8pcs (192) @ 0.12mm
Shielding - Alumimun Mylar
Conductors - 28AWG 4 Shielded Pairs Tin Plated Stranded Copper + 7 Insulated Tin Plated Standed Copper
Insulation - FR-PE: Nom Thickness 0.29, Dia. 0.96 HD-PE: Nom. Thickness 0.16mm, Dia. 0.70mm
Drain Wire - Stranded Tinned Copper
Connector - 3u Gold Plated