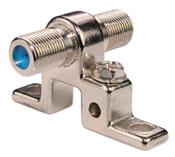 The BDS Series of flat port ground blocks provide a superior match with F connectors as compared to standard ground blocks. Because F Connectors mate better with a flat surface, Flat Port ends ensure minimal RF leakage and protection against moisture. Click here for technical information pertaining to the F81's used in these ground blocks.
Available in lengths of 1.02" or 1.35" for use with sealing sleeves.
Available with patented "round pin" F81's for 360 Degree center conductor contact and exceptional return loss specifications.
Body manufactured from nickel plated zinc.
Shipped complete with 2 hex combo #8 x 1" screws.
ORDERING INFORMATION
| | | |
| --- | --- | --- |
| Part# | Description | QTY Per Case |
| BGR81 | 1.02" double flat port | 500 |
| BGR81L | 1.35" double flat port for use w/sealing sleeves | 500 |
| BGR81LR | Same as BGR81L w/Round Pin Contact | 500 |
| BGR81D | 1.02" (Single Flat Port only) | 500 |
| BGR81L-V | 1.35" double flat port for use w/ sealing sleeves | 200 |
| BGR81LR-V | Same as BGR81L-V w/ round pin contact | 500 |