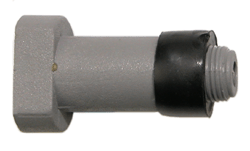 BPI's Drop Savers are used to connect drop connectors on one end and taps or locking terminators on the other end. Its' super strong body with pre-installed gromment is perfect for outdoor applications.


Manufactured from EPDM rubber.
Removeable and Re-Usable.
UV Resistant.
Female on one end and male on the other.
Protects the drop connectors when they're not being used.
ORDERING INFORMATION
| | | |
| --- | --- | --- |
| Part# | Description | QTY/Case |
| BDS-1 | Drop Saver | 100/5000 |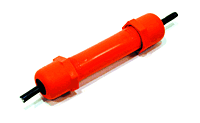 The BDE splice kit allows thetechnician to complete a direct burial splicefor RG6, RG11 or RG59 coaxial cable.

The enclosure is quick and easy to install requiring nospecial tools or gels. They are easily re-enterable for visual inspection and are re-usable.

The enclosure is manufactured of an engineering grade polymer based outer housing that resists moisture, petrolem based products, chemicals and rodents.

ORDERING INFORMATION
| | | |
| --- | --- | --- |
| Part# | Description | QTY/Case |
| BDE59611 | 6"X3/4". Includes grommets. | 100 |
| BDE59611RG | Replacement grommets | 100 |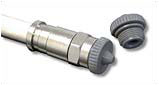 An inexpensive way to protect unattached drop cable from corrosion.


ORDERING INFORMATION
| | | |
| --- | --- | --- |
| Part# | Description | QTY/Case |
| BFCS-1 | F Connector Seal | 100/2500 |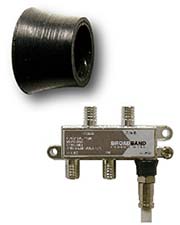 Weather Seals provide the ultimate protection from moisture migrating up the threads of F Ports and into the drop cable, or into the device to which coax is being attached. Designed to be used with 1/2" ports. Manufactured from EPDM Rubber. Ordered individually, or...

Weather Seals may be pre-installed onto BPI Drop Passives. Please contact your sales representative for details.

Why order passives with pre-installed weather seals? Even with the installers best intentions, sometimes weather seals are forgotten. Factory installation is the best way to ensure that weather seals are used in your cable system.

ORDERING INFORMATION
| | | |
| --- | --- | --- |
| Part# | Description | QTY/Case |
| BWS500 | Weather Seals | 100/5000 |