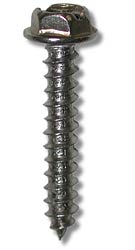 Slotted Hex Washer Head Type AB Self-Tapping Sheet Metal Screws.

All screws are packaged 100 per bag. Boxes are available by adding - B to the end of the part#.

ORDERING INFORMATION
| | | |
| --- | --- | --- |
| Part# | Size | Pkg |
| 6X075HWH | #6 X .75" | 100 |
| 8X075HWH | #8 X .75" | 100 |
| 8X075HWH-SS | #8 X .75" STAINLESS | 100 |
| 8X100HWH | #8 X 1" | 100 |
| 8X100HWH-SS | #8 X 1" STAINLESS | 100 |
| 8X125HWH | #8 X 1.25" | 100 |
| 10X100HWH | #10 X 1" | 100 |
| 10X125HWH | #10 X 1.25" | 100 |
| 10X150HWH | #10 X 1.5" | 100 |
| 12X125HWH | #12 X 1.25" | 100 |
| 12X150HWH | #12 X 1.5" | 100 |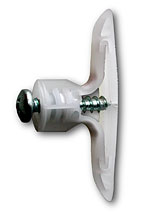 Longhorn is used in place of plastic conical anchors when more strength is required. It can be used in gypsum wallboard, concrete block, brink or masonry.

Available in bulk or 100 pieces per box. Installation keys are included at the rate of 2% per anchor quantity.

ORDERING INFORMATION
| | | | |
| --- | --- | --- | --- |
| Part# | Range | Screw Size | Drill |
| LH-38 | 5/16"-7/16" | #6-#14 | 3/8" |
| LH-12 | 7/16"-9/16" | #6-#14 | 3/8" |
| LH-58 | 9/16"-11/16" | #6-#14 | 3/8" |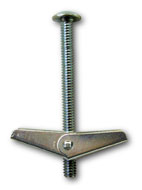 Toggle Bolts are used in hollow wall, plaster and block applications. Three head styles are available: mushroom, round and flat head. The screws are zinc plated and fully threaded. The toggle wings are zinc plated with the appropriate sizing stamped on the body for easy identification. Toggle bolts are sold unassembled.

Please specify head styple by adding (-M), (-R), or (-F) at the end of the part number. (Mushroom, Round or Flat Head)

ORDERING INFORMATION
| | | | |
| --- | --- | --- | --- |
| Part# | Diameter & Length | Hole Size | Max Load |
| TB1820 | 1/8" X 2" | 3/8" | 240 |
| TB1830 | 1/8" X 3" | 3/8" | 240 |
| TB1840 | 1/8" X 4" | 3/8" | 240 |
| TB3120 | 3/16" X 2" | 1/2" | 430 |
| TB3130 | 3/16" X 3" | 1/2" | 430 |
| TB3140 | 3/16" X 4" | 1/2" | 430 |
| TB1430 | 1/4" X 3" | 5/8" | 900 |
| TB1440 | 1/4" X 4" | 5/8" | 900 |
| TB5630 | 5/16" X 3" | 7/8" | 1030 |
| TB5640 | 5/16" X 4" | 7/8" | 1030 |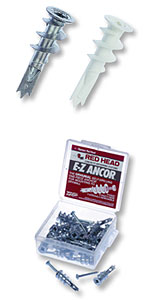 The E-Z Anchor is a one-piece self-drilling anchor designed for optimal holding performance in gypsum wallboard. Available in zinc or high strength engineered plastic (non-conductive). It is the ideal anchor for 3/8", 1/2" and 5/8" gypsum wallboard.
Fast: No Pre-Drilling.
Easy: Install Using a #2 Phillips Bit.
Clean & Neat: Tri-Cut Point Drills a Small Hole and Seats Flush.
Removable: Easily Backed Out of Wallboard.
Flexible: Breakaway Point for Installation When Cavity is Shallow.
ORDERING INFORMATION
| | | |
| --- | --- | --- |
| Part# | Description | Pkg |
| EZ100 | Zinc E-Z Anchor | 100 |
| EZ100P | | 100 |
| EZ25 | 25 Zinc Anchors / 25 Screws | 1 |