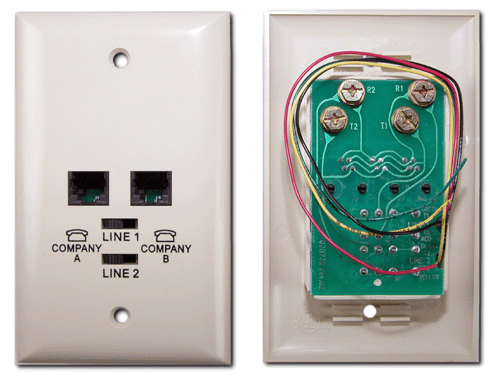 The Dual Switch jack is designed for a competitive service provider to provide coice service via a residential gateway (i.e., eMTA or phone adapter) through a home's existing wiring. The jack must be terminated at the demarcatin point where the incoming wire enters the customer's premise (first jack in series). The incumbent service provider's incoming wires are terminated to the blunt cut leads using he butt splice connectors. Premise wires to the scres on the back of the terminal block. All jacks connected in series from this jack will be controlled through this switched jack.
Control Access from the front of the jack with switches for both line 1 & line 2
Switch can be performed by customer
Wire it once - no rewiring required if service turned back to incumbent
Switch is inset 0.05" below faceplate to avoid accidental switching
Plastic wall and PCB provide added protection from damage to wires and switches during installation
Available in single and dual port options.
Customizable for your name/logo - Reinforce your brand at the visible point of service
Smooth, sleek design matches electrical faceplates.
| | | |
| --- | --- | --- |
| Part# | Description | QTY/Case |
| 2-3001S-50 | Single Port Option Ivory | 200 |
| 2-3001S-85 | Single Port Option White | 200 |
| 2-1001S-50 | Dual Port Option Ivory | 200 |
| 2-1001S-85 | Dual Port Option White | 200 |